Construction has begun on the new 3,500 square foot wine barn at Terhune Orchards. Early in December 2015, the site was cleared and the foundation was laid. Framing for the first story is now complete. The Sylvan Stoltzfus Builders from Lancaster, PA are building this barn in the traditional timber frame style. In 2009, they constructed another barn at Terhune Orchards that is used for cold storage of crops. This new barn will look similar to the farm's original red barn that is close to 200 years old. It currently houses the winery tasting room. Situated close to the parking area, this new building will be a hub of activity at the farm, housing an expanded wine production facility. While traditional in its construction methods using wooden pegs rather than nails, the new building will also utilize modern elements such as solar panels and other ways to be sustainable in energy and water usage.
On Saturday, January 16, the second floor and roof beams will be constructed. Farm owner Gary Mount said "This is a big event at a farm of our size to build a major building like this."
During a barn raising, it is customary for community members to come and have a good time while watching the structure go up. The barn raising will be done throughout the day by Sylvan Stoltzfus Builders with the aid of a large crane to lift the timbers.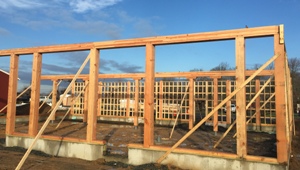 At 11 a.m., the Mounts invite school-aged children to participate in the communal building of a 8 x 10 foot scale version of the new barn. Gary Mount will lead the children in pounding wooden pegs into the timber frame to experience what the builders are doing up in the big barn.
Following old traditions, a topping out ceremony is held at the end of the barnraising. A tree bough is customarily placed at the highest point of construction. Here at Terhune Orchards, It is only fitting for an apple tree branch to be raised and affixed to the peak.
Complimentary hot apple cider and donuts will be served to celebrate. The winery tasting room will be open throughout the day serving hot mulled cider. Our 11 award winning wines will also be available for tasting or by the glass.
Construction on the wine barn is scheduled to be complete in the spring. Ongoing work will not affect access to the farm store or winery tasting room. Terhune Orchards is located at 330 Cold Soil Rd. The farm store is open daily, 9 a.m. – 6 p.m. The winery is open Friday- Sunday, 12 p.m. – 5 p.m.