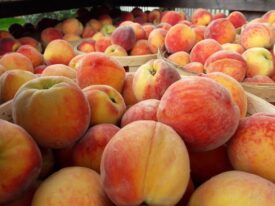 The summer weather has produced an abundant harvest of gorgeous fruits and vegetables at Terhune Orchards. We're the Garden State, for good reason. At our 200-acre, family owned and operated farm, we grow over 45 types of crops, including more than 24 varieties of fresh Jersey peaches, 33 varieties of apples, a dozen peppers and tomatoes, and many popular summer vegetables.
We carefully select varieties with the best quality and flavor. Terhune Orchards has been recognized for using sustainable farming practices. The majority of our vegetables are certified organic.
This summer has brought many new fruits and vegetables. We have harvested summer squash, leafy greens, radish, herbs, sweet corn, tomatoes, cucumbers, eggplants, carrots, cauliflower, beets, and peppers. What a delightful salad you could make!
Our watermelons and cantaloupes are juicy and fresh, providing a welcome August treat. Visit our website, www.terhuneorchards.com, for a handy crop chart that highlights what we're growing.
Tomatoes are one of our most popular summer crops. Our favorite, "Gary's Favorite," is named for co-owner Gary Mount, who has tried growing hundreds of tomato varieties over the years. This namesake tomato is perfect for slicing and putting in sandwiches. We have grown more than 15 varieties of tomatoes this season including delicious heirloom varieties. Come pick up your favorites to bring home, and remember to store them unrefrigerated at room temperature.
Peaches, nectarines, melons, and apples fill the bushels in our farm market, creating a colorful display of the summer's incredible bounty. These fruits are available at different times during the season. Visit our farm store for produce that has been picked at the height of freshness. Please call us at (609) 924-2310 to ask about your favorites.



Farm Market Hours
Farm Store – Daily 9 a.m.-7 p.m. weekdays; 9 a.m. to 6 p.m. weekends
Wine Tasting Room – Fri-Sun, noon-6 p.m.
Find Terhune Orchards online
www.terhuneorchards.com
Facebook.com/terhuneorchards
Instagram @terhuneorchards
Twitter @TerhuneOrchards
Please tag posts #terhuneorchards