Terhune Orchards kicks off summer with the Blueberry Bash on Saturday and Sunday, July 6 & 7 from 10 a.m.–5 p..m to celebrate the state's official fruit, blueberries. The farm will hold a weekend long party to celebrate these plump and juicy berries. Enjoy a day of family fun including live music, farm fresh food, and a visit to the pick-your-own blueberry patch.
The whole family will be entertained. Children will delight in a puppet show presented by Tuckers' Tales Puppet Theatre on Sat. and Sun. at 12 and 1:30p.m. Live country music bands will play on both days from 12- 4 p.m. Borderline will perform on Saturday and ALBO on Sunday.
Children will have fun with games in the barnyard, pony rides, discovery barn, pedal tractors and lots more to explore. Stop by the barnyard to see all of the animals who live on the farm. Everyone can hop on tractor drawn wagon rides through the orchards and fields.




Pick-your-own blueberries are a wonderful activity for the whole family. , Visit our two-acre berry patch to fill a bucket with big, ripe blueberries. The bushes are loaded with deep blue berries that are easy to spot and reach for even the littlest pickers. Blueberries are by the pound and as supplies last.
Having so much fun can make you hungry. Stop by Pam's Blueberry Bash Buffet for lunch. Farm fresh food such as barbecued chicken, pulled pork sandwiches, corn on the cob and blueberry muffins are on the menu.
The winery barn will be open and pouring our award winning red, white and fruit based wines by the glass or sampling flights. Celebrate the day with a glass of Harvest Blues, a fruity blend of blueberries and Apple wine which is made from Terhune Orchard's own apple cider. Harvest Blues was the winner of the Governor's Cup in the New Jersey Wine Competition.
The annual Blueberry Bash Bake-off competition will be held on Sun. July 7 at 1 p.m. The not-so-secret ingredient in all the entries is blueberries, of course!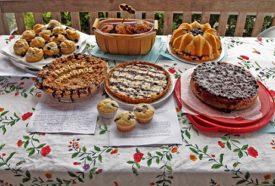 Winners receive a gift certificate for the Terhune Orchards farm store. Find the contest rules and registration form in the farm store or on the Blueberry Bash event page online at terhuneorchards.com
Before heading home, stop into the farm store for a cool drink. Bring home pints of fresh berries, blueberry salsa, jam and freshly baked delights from Terhune Orchards bakery such as blueberry cobbler and blueberry apple crisp.
Admission to Blueberry Bash is $10, age 3 and up. Free parking and access to farm store and winery. Admission fee includes wagon rides, pedal tractors, barnyard of animals, music, play tractors, puppet shows and children games. (Additional activities available for a fee). Blueberry picking available as supplies last.
Terhune Orchards is located at 330 Cold Soil Rd., Princeton
The farm store is open daily. Wine bottles are available in the store daily.
The winery is open Friday- 12:00 p.m. – 8 p.m. Sunset Sips & Sounds, 5-8 p.m.
Saturday and Sunday, 12 p.m. – 6 p.m. Sunday Music 1-4pm
Find Terhune Orchards online at terhuneorchards.com, on Facebook, Twitter and Instagram.