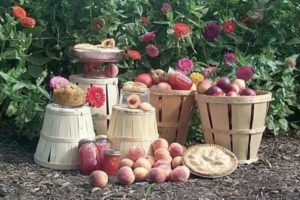 Celebrate Jersey Fresh and one of our state's favorite fruits by joining us for our annual Just Peachy Festival on August 4 & 5, 10 a.m. to 5 p.m.
The weekend will be filled with plenty of activities for kids, including a ride through the orchards on our tractor-drawn wagons, pony rides, face painting, games and barnyard fun.
Eyes of the Wild, a traveling zoo will present two shows a day on Saturday and Sunday under the festival tent. This educational program with live animals will mesmerize toddlers through grownups.
Saturday shows: 10:30 a.m. and 11: 45 a.m.
Sunday shows: 12 p.m. and 1:30 p.m.
Enjoy live music each day noon-4pm. On Saturday, enjoy music of Swing'n Dixie and on Sunday Borderline will have your toes tapping!
Local culinary experts will share some of their favorite ways to use Terhune Orchards produce during cooking demonstrations on both days at 11 a.m. and 2 p.m. in our big red event barn. You will love the peachy inspiration and summer cooking tips from these fun and tasty programs. Enjoy a free sample of the dishes our presenters create. Demonstrations are included with admission.
Saturday
11 a.m. Pam Mount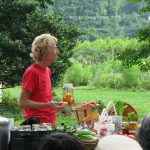 Pam Mount's popular Canning & Freezing class has grown so much over the years, we needed a bigger venue. Our big red event barn has plenty of seating to learn Pam's secrets to preserving summer's harvest of peaches and other produce for year round enjoyment. She will answer all your canning and freezing questions.
2 p.m. Dor Mullen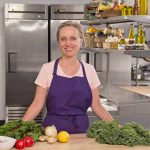 Dor Mullen will teach the basics of north African spice blending. Learn how to use 15 – 20 spices to make blends and sauces to jazz up vegetables. Each person at the table enjoys his or her preferred level of "heat".
Dor is the founder of The Suppers Programs, a network of support groups in central New Jersey for people who need to change the way they cook and eat for the sake of their health.
Sunday
11 a.m. Rachel Weston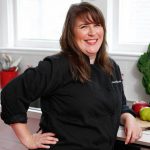 Rachel Weston, author of New Jersey Fresh: Four Seasons from Farm to Table. A native of the Jersey Shore, Rachel Weston is a food writer, chef and culinary instructor. She is committed to helping people understand their food system and how to make seasonally inspired meals for their families from foods produced locally.
Rachel will demonstrate one her favorite peach recipes, Peach & Pesto Panzanella Salad.
2 p.m. Margo Allen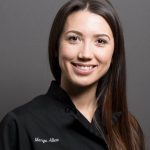 Margo Allen, is the chef and owner of Fridge2Table, a personal chef service providing healthy, balanced meals made in your home or for delivery. Margo recognizes the importance of eating healthfully, even on a busy schedule and will share her tips for making fresh and delicious summer meals. Margo will demonstrate Summer Peach & Cucumber Salad with fresh herbs, a perfect dish with summer harvest.
Pam's Everything Peachy Food Tent will offer tasty summer fare such as barbecued chicken, hot dogs, homemade gazpacho, salads, and our famous apple cider donuts. Cool off with one of our refreshing frozen peach slushies and a selection of locally made ice creams in the Just Peachy Ice Cream Social tent.
Enjoy specialty foods in our Just Peachy Delights area and visit New Jersey made food vendors. Adults can enjoy the taste of summer in a glass with our award-winning Just Peachy wine. Sample a flight of our white, red and fruit wines.
Baskets overflowing with just picked peach- es and nectarines are ready to take home from the farm store to make your favorite peach recipes. Or try one of our freshly baked, old- fashioned peach cobblers, or pies.
Admission fee $8, children under 3 are free. Admission fee includes chef demonstrations, wagon rides, pedal tractors, barnyard of animals, music, play tractors, and children's games. (Additional activities available for additional cost.) The Farm Store and our winery and tasting room are open without admission fee and plenty of parking is available at the farm.
Pick Your Own Peaches are not available. Lots of ripe fresh peaches are can be found in the farm store.