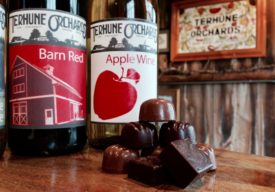 Join us for a special wine and chocolate tasting event with Tony Brokenborough of Carol's Creative Chocolatez and Terhune Orchards' Vineyard Manager, Tony McDonell. 
Tony Brokenborough will lead tasters through the history of chocolate from the days of Columbus to the present day. Tony McDonell will share the history of Terhune Orchards vineyard, vine selection and wine making.
Afterwards, enjoy an extended tasting of 10 high quality single origin and Belgian chocolates which have been expertly paired with Terhune Orchards wines. 
This event will not disappoint…..and everyone will be sure to leave with a better appreciation of chocolate and wine….and how they work together.
Event takes place in Terhune Orchards new Wine Barn. Get an inside view of our wine tanks, bottling line and more. Registration includes a souvenir glass to go home.
Tickets $40 in advance (before Wed. March 29), $45  after March 29 and at the door as space allows.
1:00pm seating is limited to 50 guests. 3:30 pm seating will be opened once 1:00 pm seating is at capacity
Purchase Tickets Online HERE