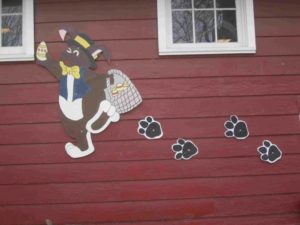 Celebrate the arrival of spring at Terhune Orchards' Bunny Chase on Easter weekend.
Spring has sprung at Terhune Orchards! The farm animals are enjoying spring in the pasture and the bulbs are blooming. Come for a free, fun event for all young ones and their families. Follow the treasure hunt clues and find our spring surprise at the end of the hunt! Wonderful for children ages 2 – 8 years. Each child can make a bunny to take home.
Enjoy wagon rides around the farm and pony rides too. Hungry? Our Farm Food Tent will be filled with homemade goodies including donuts, pie, cookies, apple cider, soup, chili, salads, hot dogs and much more. Adults visit our Terhune Orchards Vineyard and Winery Tasting Room to sample our award winning wines made from grapes grown right here on the farm. Fun event for all ages.
Celebrate the end of winter and the beginning of our spring season on the farm. For more information call 609-924-2310 or visit www.terhuneorchards.com