Five weeks of fun on the Farm. See descriptions of two camp programs below.
The camp sessions meet from between 9am and 3:30pm, Ages 7-12.
Terhune Camps are certified by the State of New Jersey Youth Camp Standards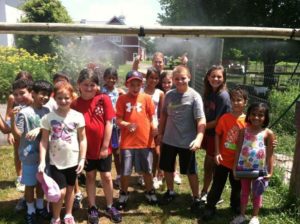 Schedule for 2016
Farm Camp
July 11 to July 15(SESSION FULL)
July 18 to July 22 (SESSION FULL)
Future Farmers Gardening Camp –
July 25 to July 29 (SESSION FULL)
August 1 to August 5  (SESSION FULL)
August 8 to August 12 (SESSION FULL)
Registration:
Download and mail in registration and medical FORMS with payment.
Register early since space is limited. For additional details or questions, call the Farm Store at 609-924-2310.
Farm Camp at the Farm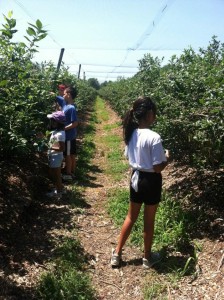 The two one-week sessions focus on how the farmer and nature work together to grow healthy crops. Camp is directed by Elaine Madigan, Terhune Orchards Education Director and Manger for over twenty-five years.
This hands-on program includes a variety of activities, games, crafts and field trips that will teach the campers about farm life. Activities include visiting Terhune Orchards' fields to pick fruits and vegetables, which campers then prepare for healthy snacks, becoming friends with our animals, including gathering our chickens' eggs, brushing and feeding all the animals, studying insects, butterflies, and bees, identifying trees on the nature trail, learning about how farm and nature work together, water quality, discovering nature in the Children's garden (planting, caring and harvesting), to name a few. Hiking the Farm Trail, exploring the StonyBrook, and a trip to the Howell Living History Farm to compare a modern family farm to practices at the turn of the century provide additional fun activities for the campers.
Examples of hands-on fun activities may include:
Flower press and pressing flowers.
Visual "story stick" of farm trail hike using found objects.
Making boats to sail in the brook.
Treasure box to collect weekly finds!
A nature journal, nature poetry.
Buzzing humming Bee.
For children to experience a week of summer gardening camp on the farm. The two one-week sessions engage in hands-on activities that provide an understanding of how a farm works, it's environmental context, as well as plenty of hands-on farming and old fashioned games! The activities blend learning, doing, and of course fun! Come and experience life on the farm.
Campers will have a full week of activities focused around Terhune Orchards children's garden. Gardening topics will include garden preparation and planting, tool safety, weeding, watering, plant types and harvesting. In addition, campers will explore and harvest from among the 35 different crops grown here at Terhune Orchards. They also go behind the scenes into understanding the machinery, animals, chores, crops and business of running a farm.  They will harvest and eat their own "Jersey Fresh" snacks from the fruits and vegetables they pick. Nothing like eating what you grow!
Along the way, campers will study insects and pollinators, take a nature hike, learn about water cycles. Campers also explore the farm's natural habitats, wildlife and ecology to understand the environmental context of the farm.  We also make sure to bring in a historical perspective to see how farming began and compare to where it is today. Throughout we play games, do activities and keep learning fun!
Camp leader: John Emmons is the Elementary Lab Science teacher at Community Park School in Princeton. He holds a BS in Environmental Planning and Masters in Teaching (Elementary Education specialization). His background includes leading nature programs, school garden clubs and farming.