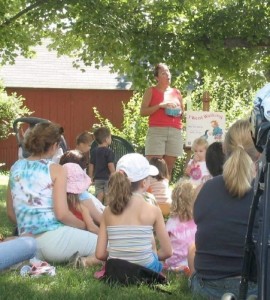 Read & Pick is an innovative program that combines hands on farm activity with your young child and listening to a story highlighting the fruit or farm area. Parents/guardians and young children (ages preschool to 8 years) are welcome.
Each program includes reading two stories about topic. Staff will explain how crops grow and how to pick them. Each program costs $7 per participating child and includes picking a container of fruit or activity.
The programs are on Tuesdays, with 2 separate sessions at 9:30am and 11am, and last about one hour. Children must be accompanied by an adult. Please call 609-924-2310.
Register Now.
You must check in for each program in the store at 330 Cold Soil Road. Please note schedule is subject to change.
Schedule 2016:
Read & Pick: Vegetables May 10 @ 9:30 am & 11:00 am
Everyone will pick his or her own small container of asparagus. Children will be amazed to see how this crop grows!
Read & Pick: Farm Animals  May 24 @ 9:30 am  & 11:00 am
Everyone will participate in a farm craft activity with wool from Terhune Orchards sheep!
Read & Pick: Strawberries June 7 @ 9:30 am & 11:00 am
Read & Pick: Cherries June 21 @ 9:30 am & 11:00 am
Read & Pick: Monarchs, Swallowtails, and Honeybees – Oh My! July 5 @ 9:30 am & 11:00 am
Celebrate everything wonderful about helpful pollinators. We will be reading two books about flowers, gardens and insects. Then everyone will make their own butterfly to take home.
Read & Pick: Blueberries July 19 9:30 am & 11:00 am
Read & Pick: Flowers August 2 9:30 am & 11:00 am
Read & Pick: Pear August 16 9:30 am & 11:00 am
Read & Pick: Apples August 30 9:30 am & 11:00 am
Read & Pick: Chickens September 13 9:30 am & 11:00 am
Read & Pick: Tractors September 27 9:30 am & 11:00 am
Read & Pick: Pumpkins October 4 9:30 am & 11:00 am
Registration Requested
Register Now