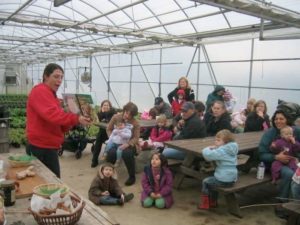 Fun on the farm in winter.  After visiting the farm weekly during the growing season, we hear that children miss special events for them in the winter.  So come on out and enjoy Read and Explore, a cure for cabin fever!  Our fun and educational programs continue through the winter season, combining hands on activity with listening to a story.
Parents/guardians and young children (ages preschool to 8 years) are welcome.
Each program costs $7.00 per participating child and includes the materials for the activity.
The programs are on Tuesdays at 10am and Saturdays, at 10am & 1:00pm, and last about one hour.
Children must be accompanied by an adult. Please call 609-924-2310.
Register Now
Check in for each program in the store.
Read & Explore: Gingerbread Man – January 12, 2016 @ 10:00 am, January 16, 2016 @ 10:00 am & 1:00pm
We will read the Gingerbread Man and then each child will decorate a big gingerbread man cookie to take home. Kids will be amazed at how many gingerbread man ingredients come from farms.
Read & Explore: Animal Tracks February 2, 2016 @ 10:00 am, February 6, 2016 @ 10:00 am & 1:00pm
We will read books about animals in winter and talk about wintertime in nature. After story time, we will make bird feeders with wild bird seed for everyone to take home and help the birds through winter. Weather permitting we'll visit our farm animals and see if we can match tracks to each
Read & Explore: Fur, Feathers, Fluff: Keeping Warm in Winter February 16, 2016 @ 10:00 am
February 20, 2016 @ 10:00 am & 1:00pm
Learn about how animals keep themselves warm in winter. We will read two stories about animals and explore the sense of touch with wool, feathers, etc. Each child will make a paper bag animal to take home with lots of "fluff".
Read & Explore: Composting March 1, 2016 @ 10:00 am, March 5, 2016 @ 10:00 am & 1:00pm
We will learn about turning our "garbage" back into soil. Read stories about worms and compost. Each child makes a compost container to take home.
Read & Explore: Getting Ready for Spring March 15, 2016 @ 10:00 am, March 19, 2016 @ 10:00 am & 1:00pm
We will get ready to wake up from winter and prepare to start gardening. As Saint Patrick's Day is the traditional day to plant peas and spinach and get the garden ready, we will start our gardens early!  Our reading is a selection from "Frog and Toad are Friends".  Each child plants seeds to take home
Read & Explore: Birds, Nesting, Birdhouses April 5, 2016 @ 10:00 am, April 9, 2016 @ 10:00 am & 1:00pm
Birds are starting to think about making homes for their babies. We will read stories about birds.   Each child make a bird house and have nesting material to take home
Registration Requested
Register Now